Sunken Panel Lights 3w-30w
Our Sunken Panel Lights 3w-30w come in Round or Square shape and are available in 4000k and 6000k. All Panels come with a 2-Year Warranty. The Panels have a CE NRCS Certification.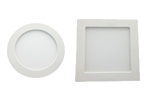 GL lighting is proud to present to you our Sunken Panel Lights 3w-30w. The "Sunken Panels", as they are commonly known, come in a 3w (SHTCP3w), 6w (SHTCP6w), 9w (SHTCP9w), 12w (SHTCP12w), 18w (SHTCP18w) and a 24w (SHTCP24w). We are based in Edenvale, Johannesburg, South Africa. We supply LED lighting to the Southern African market including Zambia, Botswana, Angola, Congo, Mozambique & Namibia. The entire South African geographic area is also covered including but not limited to Cape Town, Bloemfontein, Port Elizabeth, Pretoria and Richards Bay. These Sunken Panel Lights 3w-30w come with a 2-year warranty. For more information on our Sunken Panel Lights please do not hesitate to contact GL lighting at www.tubelights.co.za or info@gllighting.co.za.